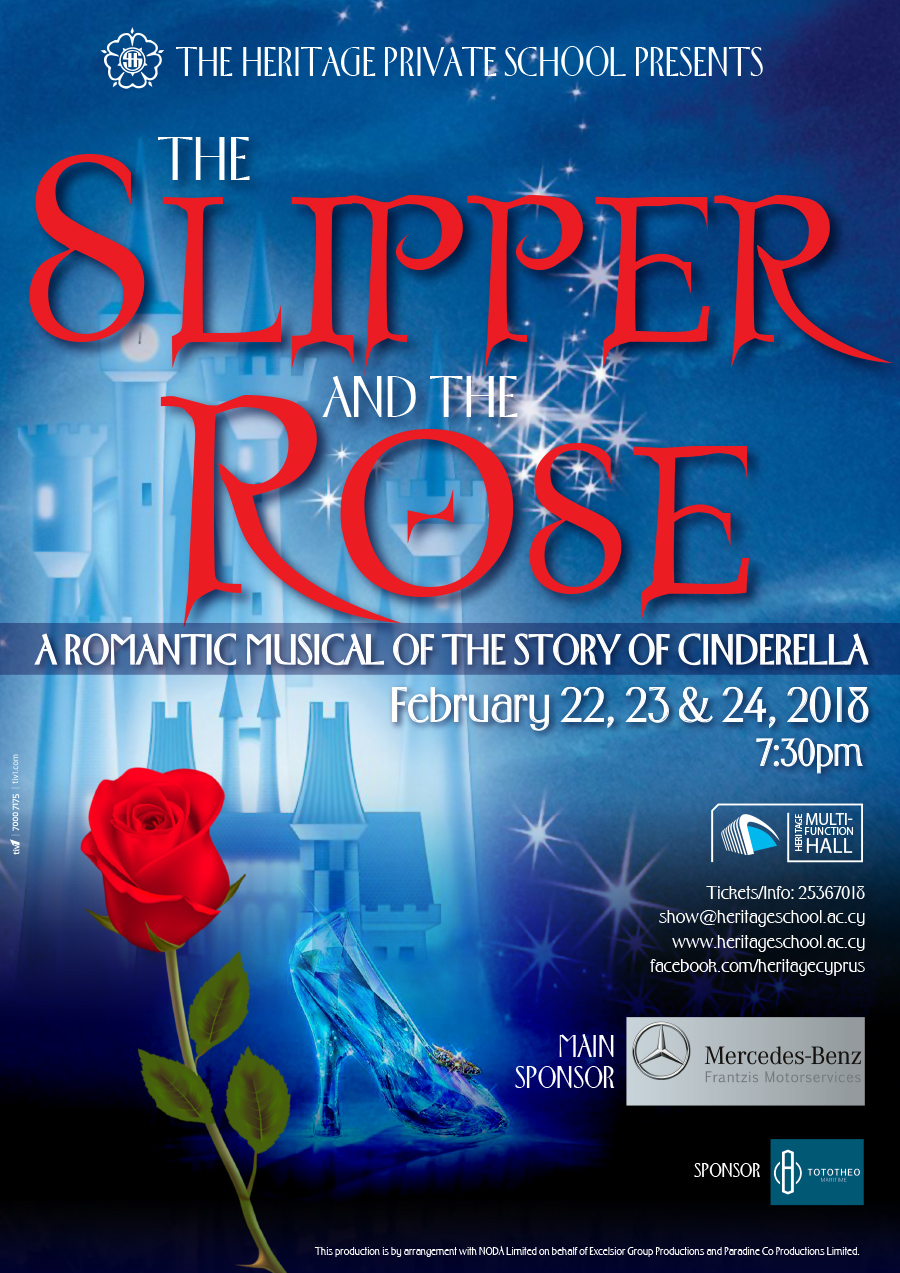 The Heritage Private School is proud to present THE SLIPPER & THE ROSE, a romantic and magical musical based on the story of Cinderella, on 22, 23 and 24 February 2018 at the School's state of art Multifunction Hall.
Tickets are available from the school's offices from Monday 12 February or at the door before the performances. They are priced at €12 for adults and €6 for children.
The show runs for 2 hours with an intermission; it is suitable for young family members and recommended for an enjoyable family outing. It features 45 student cast, crew and band members.
The Main Sponsors of THE SLIPPER & THE ROSE is Mercedes-Benz and the General Sponsors are the Tototheo Group and the DTA Group of Companies.
MORE ABOUT THE SLIPPER & THE ROSE…
Set in the 19th Century this version of the fairytale develops some of the original plot, giving reasons for the action. With themes like protocol and love and how these two can collide, the musical reminds us of what is important in life. The music was written by the Sherman brothers and the 1976 musical film version was chosen as the Royal Command Performance motion picture selection for 1976.
The Queen Mother herself is said to have stated to the songwriters that the waltz played in the ballroom scene was 'the most beautiful song I've ever heard'. It is a classic tale, enhanced by the creativity of the Sherman brothers' music and The Heritage Private School is proud to have secured the performance rights to present it to our school community and a wider Cyprus audience this year.
This production is by arrangement with NODA Limited on behalf of Excelsior Group Productions and Paradine Co Productions Limited.